Forensics / Engineering Networks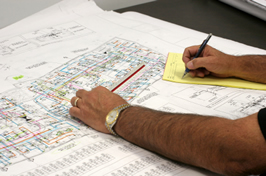 We have partners in the Forensic Engineering industry who are the experts in determining causation, the true extent of damages, and producing protocols for step-by-step restoration (if necessary) to the property's pre-loss condition. 
Forensic engineering is a special niche which helps us in understanding why things fail, what truly caused the damage, and if there are more efficient repairs available for the damage(s) in question. Currently, analysis services are more sophisticated, but just as practical and "hands on" as they ever were. The process still includes physical inspection as well as data collection (measurements and photographic documentation), testing when appropriate, personal interviews, consultation with specialists and sub-consultants, literature research, report preparation, depositions, and testifying in court.
Investigations can be as simple or complex as the nature of the damage in question demands.  Results can be given verbally or in letter or written report form.  We assist and determine the extent of the investigation and report. We implement forensic engineering into the investigation of the amount of loss when necessary.  We do this only if it is authorized by the client, and it has been reasonably-concluded to be cost-worthy.